News
PA 101-642 (b) All public and private secondary schools, community colleges, and universities shall publish notification on their publicly accessible websites and...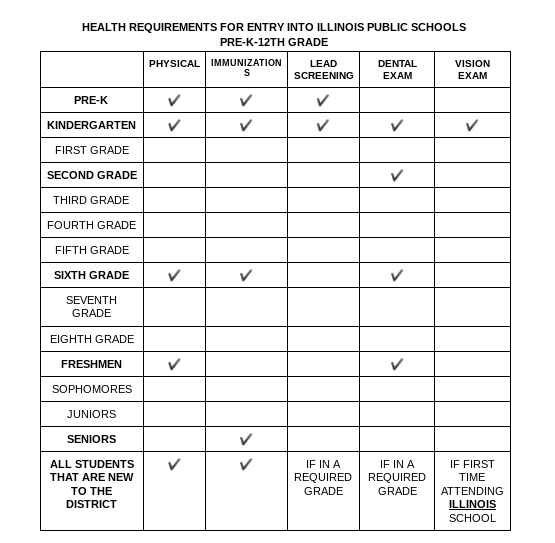 STUDENT MUST BE 11 YEARS OF AGE FOR 6TH GRADE AND 16 YEARS OF AGE FOR SENIORS WHEN RECEIVING MENINGITIS VACCINE A COMPLETE PHYSICAL IS REQUIRED FOR GRADES PRE-K,...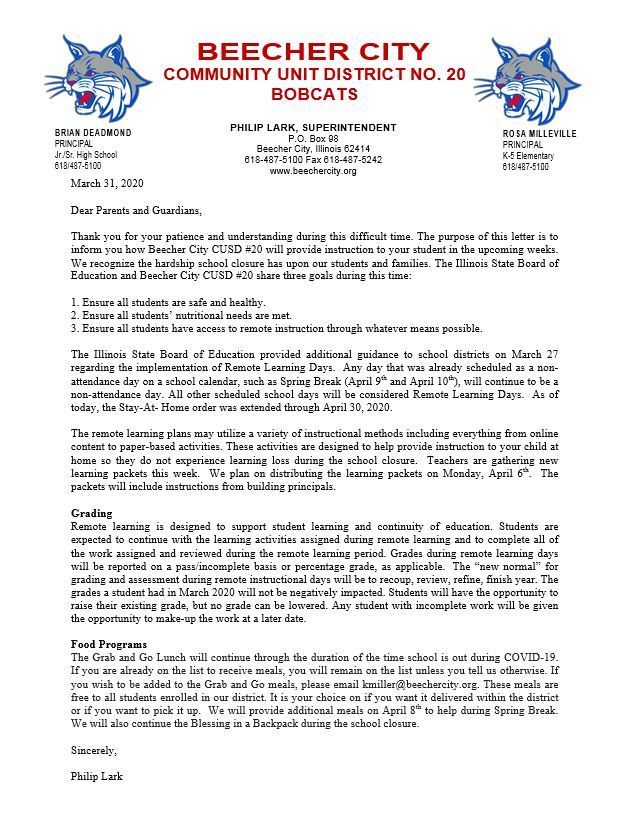 Beecher City CUSD #20 Remote Learning
SEE ALL NEWS
LIVE FEED

Beecher City CUSD #20
1 day ago
October 22, 2020
Beecher City's current numbers for this week:
- Staff Quarantined-0
- Staff Positive-0
- Non-Certified Quarantined-0
- Non-Certified Positive-0
- Students Quarantined-13
- Students Positive-2
Students quarantined are contact tracing students as well as students with any of the following symptoms that must stay home:
• Fever >100.4
• Chills
• Fatigue
• Muscle or body aches
• Headache
• Shortness of breath
• Difficulty breathing
• Cough
• Sore throat
• Congestion or runny nose
• Loss of appetite
• New loss of sense of taste or smell
• Nausea
• Vomiting
• Diarrhea
• Abdominal pain
• Any other COVID-19 symptoms identified by the Centers for Disease Control (CDC) or Illinois Department of Public Health (IDPH).
Philip Lark,
Superintendent

Beecher City Jr/Sr High
2 days ago
Next week is Red Ribbon Week at BCHS! * Student Council members will be selling "red" soda during lunch Tuesday – Friday or until it runs out.
Monday, October 26 – School Spirit Day
Wear red, white and blue Bobcats apparel

Tuesday, October 27 – Red Day
Wear red

Wednesday, October 30 – Hickerbilly/Camo Day

Thursday, October 31 – Throwback
Dress like your favorite decade, 50's, 60's, 70's, 80's, etc.

Friday, October 30 – Halloween Costume
Costume contest beginning of 8th hour
*Must be school appropriate
view image

Beecher City CUSD #20
2 days ago
October 21, 2020
On October 22, November 25, December 18, and December 21 the district will dismiss at 1:50 PM grade school and 2:00 PM Jr./Sr. high. The 1- hour early dismissal was for our regular 3:00 PM dismissal time. We have updated our website. We apologize for the inconvenience.
Karen Hanfland
3 days ago
Great to see an artist at work!
view image

Beecher City Jr/Sr High
4 days ago
Beecher City FBLA (Future Business Leaders of America) Organization is selling Pies and Cookies from Neimergs from now until November 17th! Pies will be delivered on Wednesday November 25th! Students are selling Apple, Pumpkin, and Pecan Pies for $15 each and cookies of the following flavors for $10/dozen : Chocolate Chip, Snickerdoodle, Oatmeal Raisin, Peanut Butter, M&M Monster, and Macadamia Nut. Contact any FBLA member to order or you can email Morgan Cox at mcox@beechercity.org
Thank you for your support!
view image
SEE ALL POSTS